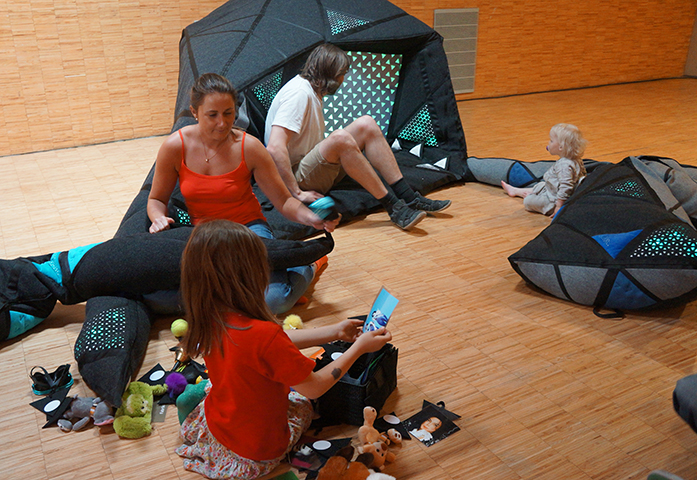 After a long and very demanding design and development period of the 4th generation of the Co-creative Tangibles, named Polly World, we have conducted a first pilot study. Polly World is an attempt to answer all the demands, suggestions and wishes from users and experts related to the three earlier generations of RHYME's Co-creative Tangibles, in addition to Social Media functionality. Developing the Polly World has therefore represented much more work and complex challenges than we initially planned for and understood. It has therefore extended the project massively. Some of the major challenges and user demands have been:
Dynamic and interactive change of microphone input in mobile Co-creative Tangibles. So the users continuously can change their singing while interacting with diverse sensors of the wireless Tangibles.
Closer and more intimate and embodied relation to the video projection, compared to traditional wall projection, TV and Computer Screens.
Better sound quality in the mobile Tangibles, regarding both sound frequency range and volume.
More varied musical choices and tunes ( for expanded the self-regulating possibilities), regarding forms of musical interaction (musicking), type of music and sound experiences (music tunes, genres and soundscapes), so the users can easily handle and choose music, music related activity and intensity level.
More robust transparent textile surfaces, since light is an important response dimension both in the interactive surfaces and part of the whole audio-visual experience.
Better touch sensor solutions, both regarding interaction possibilities and surface qualities like colour, softness, light response, responsiveness and durability.
More engaging and sensorial stimulating surfaces, to engage and motivate interaction with non-computer surfaces to gain a more fluent tactile, sensorial and interactive (computer based ) experience.
Easier grips and more possibilities to handle input sensors like microphone and bend sensors.
Possibility for the user to include their own things into the musical experience and make their own things sing along and expand the self-regulating possibilities.
Easier battery charging of the mobile Tangibles, so that the users easily can do it themselves.
Easier start and stop of the system, so the user can handle it themselves.
Movable Tangibles, so the whole Polly World can be moved, installed and stored rather easy. These practicalities took days and were in several cases impossible with earlier generations of the Co-creative Tangibles…
Social Media functionality for distributed interaction on Smartphones and Tablets over the Internet (will be described in detail in a later post).
All these user and expert wishes (and many more) we have tried to put together in the new generation of the Co-creative Tangibles, Polly World. The Polly World consists currently of 4 Interactive, networked things, Co-creative Tangibles. The biggest , Polly Land, is wired , and 3 are mobile and wireless. Polly Land contain a close projection using back ground projection onto a acrylic surface included in the soft textile landscape. Polly Land has three "arms" containing RFID-reader, camera and microphone. It has a stand alone Wi-Fi system. The three other Polly interactive things is Polly Planet, Polly Fire and Polly Ocean.
They have their own separate colour so they are easy to identify and interact with using a graphical interface on Smartphone and iPad. But the different sensors has the same shape, surface and interaction form. For instance is all touch sensors soft velvet triangles with the same output light pattern, but in Polly Land they are blue, in Ocean they are turquoise, in Fire they are orange and in Polly Planet they are yellow. The same is the case with all input sensors like the bend sensors, the microphones, the RFID-readers and inductive charger.
The different shapes are built on traditional shapes within the field, such as Polly Planet that is bases on a ball shape. The shapes are constructed of triangles joined together with strong bands like trails the users can follow around the shapes to find more sensorial challenges and experiences. The input areas are coloured sports fabric that contrasts the passive grey wool patches. Every Polly Tangibles, interactive thing has big light output patches included, some with speakers embedded.
Here are some more situations from the pilot test 16. June 2014: